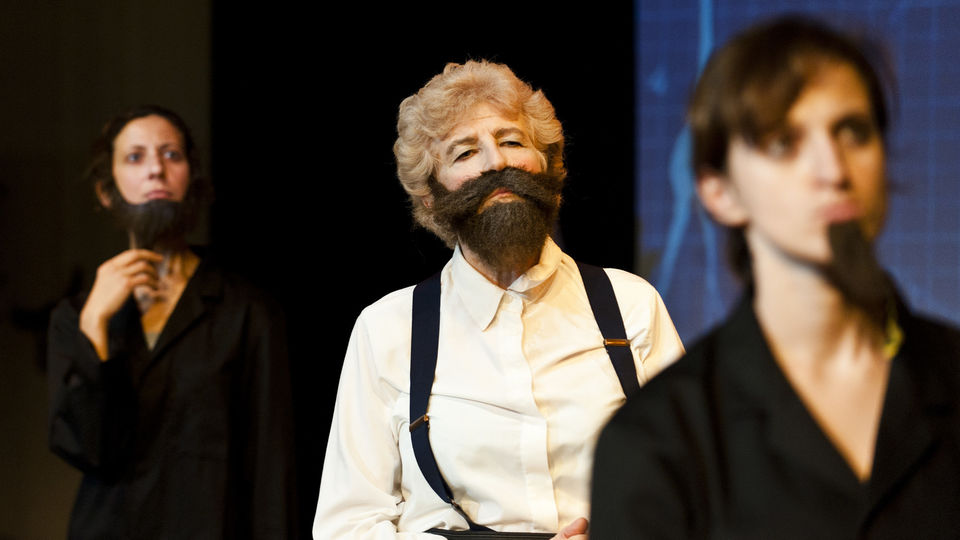 Ida and Saba were Spare Tyre's first paid Interns. They worked for 6 weeks on the rehearsals and performances of Still Life Dreaming - a collaboration between Spare Tyre and The Wellcome Trust, performed at the Edinburgh Fringe 2011.  The interns, both Italian, found themselves keeping notes, stage managing, fitting lights and even on stage performing themselves.  It was a huge challenge which they both lived up to, and learnt plenty along the way. Saba and Ida kept detailed diaries for each day they were with Spare Tyre. You can see some extracts from their diaries below.
Ida

This is the first day of rehearsal and I am getting to know the group from a different point of view. I am positively impressed.
Great energy today as well! After the warm up, with small facial massages, humming and movements linked to the breath, the group starts to device the so called Wellcome scene. The group talks about Wellcome, his possible links with the Quakers and enjoys the possibility of being open to different interpretations. The group will give importance to the humanity of this character and Jim seems to be playing with a certain attention to Wellcome's broken heart.
I have a little concern about a stage direction. In the production staff meeting we discuss it with Arti. I quote her direct words, a series of questions more than an answer: If we offend, why do we offend. And if we want to shake the audience, why and how are we going to do it? This is something I have to re-learn, as I have been forced to be aware of every possible offence along this year. And it is a very important lesson. Thanks Spare Tyre.
I loved how Vicky articulated a thought I didn't know how to propose: she observed how Margaret's characters are very important for their physical connotation, demand a great amount of physical energy and are very important for the show. This observation helped restore Margaret's self esteem.
I am glad that someone recognised how science and art are linked together, expressed their ideas about and gave us the chance to be part of a process. I guess I am grateful, happy and reassured I can build up my future. I needed it today!
Happy to start the new week, I find myself doing many practical things: from rigging and de-rigging lights to sewing buttons, from crying of pain because I am wearing the wrong shoes to climb on the ladders to browsing the venue to find missing cables. A great technical pot.
Fringe festival's première of Still Life Dreaming. I am so much concentrated and focused, I feel I want and have to be very professional. The show seemed to have run fine, feedbacks are been given, I am happy.
I feel positively inspired and quite touched to witness the encounter of Margaret and Vicky with the 'real' Jeanie. The lady is really pleased and touched too. It is amazing to see how script and direction could change completely a character. But then, dramatic needs are to be fulfilled, and smiles to be put on in front of the camera.
I am not exaggerating when I say this experience was a big journey: I learnt many things and I am motivated to go on the path. I also appreciated the moments of criticism, because I was put in the condition to analyse what was the need, rather than the mistake. I feel so much enriched and I am pleased of having been part of such an exciting project with a beautiful team.
Saba
My special moment was seeing Margaret dancing the tip tap. She was wonderful – I loved watching her and everyone did! That moment allowed me to see also the potential of the show with its combination of different elements: music, video and dance will enhance the power of such a beautiful text!
It was good to understand the need of creating a safe space for the actors to experiment and to play with their characters and for the director of taking same risks in order to say something new/different.
My interesting moment today was the warm up. This time it was me be in charge of running it and I decided to do a series of gentle physical movements followed by a storytelling game. Arti was very supportive, open and helpful and made a safe environment for me to experiment. I am really gratefully for this opportunity.
I like this collaborative approach where the director is in charge but leaves to the collaborators real freedom of action for the good of the show.
Arti instructed me on the way we should act on stage. She reminded us that we will need to play various roles being stage managers, performers and supporters of the performers at the same time. She recommended us to keep controlled and to avoid panicking even if things go wrong.
I loved the feeling of being part of a group and I could feel that the performers appreciated what we were doing. There was always a nice and warm atmosphere backstage: we started every run with hugs and striking of hands and I loved it.
Last show. Again this was very good: it really seemed that now the performers felt at ease and free to explore the possibilities of their characters. I too felt very confident in the changes and in preparing the costumes and this was probably the first time that I really enjoyed being on stage. I thought that Still Life Dreaming was really a great experience either from a professional and from a human point of view and I felt happy about the amount of things I have learnt and about the new relationships I have built up!